Knock Nevis - 
The world's largest ship ever
Do you think that once there was a ship of almost half kilometer long? Knock Nevis is the supertanker I'm talking about.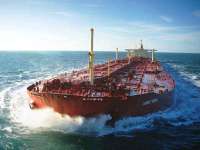 Knock Nevis at sea
This sea giant is so large that four football (soccer) fields could be laid end to end on her deck. It takes 5.5 miles to stop with a turning circle of over 2 miles.
She is of 458.45 meters in length from tip to tip (LOA). That surpasses the height of Empire State Building in New York City (443 meters high), and Petronas Towers in Kuala Lumpur (424 meters high).
The vessel has a beam of 68.8 meters, approximately the width of a football field.
She sits 24.6 meters in the water when fully loaded, which makes it impossible for her to navigate even through the English Channel, let alone man-made canals at Suez and Panama.
Largest vessel in the world
Isn't she really large ship? Definitely, she is the longest and largest ship ever built in history.
In below picture, you can visually compare between the tanker (red color) and the tallest sky scrappers in the world.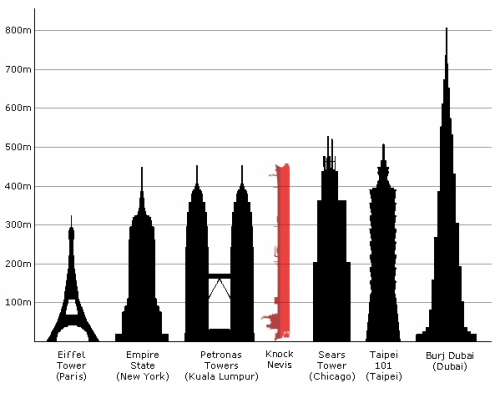 Source: Wikipedia
If you want to compare the Knock Nevis with other mega ships of different types (Emma Maersk, RMS Queen Mary 2, MS Berge Stahl, and USS Enterprise), here it is.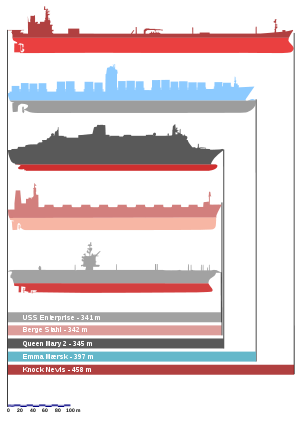 Source: Wikipedia
For comparison, the supertanker is 61 meter longer than Emma Maersk, the world's largest container ship.
Main particulars
| | |
| --- | --- |
| Name | Knock Nevis |
| IMO | 7381154 |
| GT | 260,941 |
| NT | 214,793 |
| Laden Displacement | 646,642 long tons |
| Light Displacement | 81,879 long tons |
| Length (LOA) | 458.45 m (1,504.10 ft) |
| Beam | 68.8 m (225.72 ft) |
| Draught | 24.611 metres (80.74 ft) |
| Depth | 29.8 m (97.77 ft) |
| Propulsion | Steam Turbine |
| Speed | 16 knots |
| Capacity | 4,240,865 barrels (of crude oil) |
| Tonnage | 564,763 DWT |
| Type | ULCC (Ultra Large Crude Carrier) |
| Ex. Names | Seawise Giant; Happy Giant; Jahre Viking |
| Post Name | Mont |
History
1979: Commissioned at Sumitomo Heavy Industries' Oppama shipyard as Seawise Giant, originally by a Greek ship owner who went bankrupt before delivery;
The shipyard then sold the newbuilding to Hongkong based OOCL who immediately had her lengthened by several more metters;
1981: Launched as Seawise Giant;
1986: hit by Exocet missiles in the Iran-Iraq War and sank in shallow water off Iran's Kharg Island;
1988: A few months after the end of the Iran-Iraq War, the Norwegian shipowner Anders Jahre bought the shipwreck, had her refloated, repaired by the Keppel Shipyard in Singapore;
1989: Renamed Happy Giant;
1991: Relaunched and renamed again, this time to the Jahre Viking;
2004: the ship was bought by Singapore based First Olsen Tankers and converted to an FSO - a Floating Storage and Offloading unit. She was also renamed to Knock Nevis. For years after that she was permanently moored in the Qatar Al Shaheen oil field in Quatar waters of the Persian Gulf;
Dec 2009: Sold to Indian scrapers, and renamed Mont for final journey to scrapping area;
2010: Scrapped.
After demolition of Mont, the title of the world's largest ship will pass to other vessels, possibly the supertanker TI Asia and her sisters TI Europa, TI Oceania & TI Africa.
Videos
An interesting Youtube video about the supertanker by Jeremy Clarkson
Pictures
The super tanker at sea, once upon a time...
recently beached for demolition...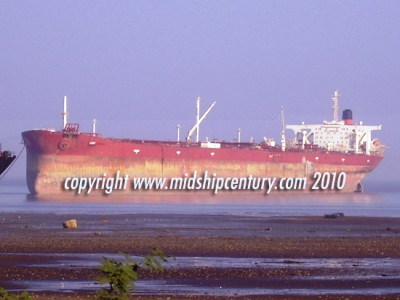 and finally, scrapped...
Still, remaining of the legacy: its refurbished anchor placed in Hong Kong Maritime Museum.
You may want to watch
a slide show
on Youtube
Related articles
---
Return from Knock Nevis to Container ships 
Back to Homepage 

Your opinions about Knock Nevis
We all know ships are built, operated, and finally scrapped. Yet, seeing such a superlative structure like Nock Nevis (Mont) being destroyed, I feel sorry for her. Do you?

Share your thoughts here.
What Other Visitors Have Said
Click below to see contributions from other visitors to this page...

---