Emma Maersk - Once largest container ship in the world
Do you know Emma Maersk, the largest container ship today, and an orchid were named after the late wife of Maersk's chairman, Mærsk Mc-Kinney Møller?
You will find the answer later on in this article, together with information about:
the ship's particulars;
sister ships;
other vessels once having that name;
interesting facts about the mega ship.
Have you ever wished to name something big after the name of your beloved ones?
I believe the daughter of Mærsk Mc-Kinney Møller, Maersk's chairman did, and she completed her wish.
She christened the biggest container ship on 12 August 2006 after her later mother, Emma Maersk.
Godmother Ane Maersk Mc-Kinney Uggla flanked by (from left) Captain Henry Solms, 
senior shipowner Mærsk Mc-Kinney Møller and CEO. Finn Buus Nielsen.
Source: http://www.skipsrevyen.no/batomtaler/batomtaler-5-2006/356.html
The extreme things like the longest river, the tallest skyscraper... usually impress people (including me). Emma Mærsk amazes us as the world's largest container ship ever built, and the longest ship currently in use. (Actually, the biggest ship ever built, Knock Nevis – a supertanker, was scrapped in 2010).
The Danish conglomerate A.P.Moller-Maersk Group built Emma Maersk in 2006 at Odense Steel Shipyard, Denmark. After her delivery, Maersk Lines has deployed the ship en route from Europe – Far East via Suez Canal.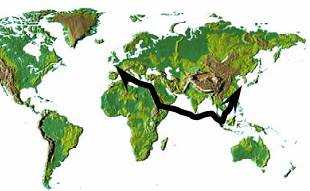 Europe-Far East route
Ship particulars

Emma Maersk at Singapore
Source: www.singaporepsa.com
GENERAL
Name
Emma Maersk
Shipowner
A. P. Moller-Maersk Group
Ship operator
Maersk Lines
Nationality
Denmark
Shipyard
Odense Steel Shipyard Ltd, Denmark
Home port
Taarbæk, Denmark
Call size
OYGR2
IMO number
9321483

DIMENSIONS

Length of overall
397m
Beam
56m
Draft
15.5m

Depth
30m
GT
170,974
NT
55,396
DWT
156,907
Capacity (nominal)
14,770TEUs
Refer Plug
1,000
 
 

MAIN ENGINE

Maker
Wärtsilä
Type
Wärtsilä-Sulzer RTA96-C
Power
109,000 HP
Speed
25.5 knots
Maiden voyage
The Danish vessel set sail on her historic maiden voyage on 8 September 2006 under the command of Maersk Senior Master, Captain Henrik Solmer and Chief Engineer Michael Thomassen.
She departed Aarhus, calling at Gothenburg, Bremerhaven, Rotterdam, Algeciras, the Suez Canal, and arrived in Singapore on 1 October 2006.
The vessel departed Singapore in the following day, headed for Yantian in Shenzhen. She sailed on to Kobe, Nagoya, arrived at Yokohama on 10 October 2006, and returned via Shenzhen, Hong Kong, Tanjung Pelepas, the Suez Canal, Felixstowe, Rotterdam, Bremerhaven, Gothenburg and finally to Aarhus, with arrival at that port 11 November 2006.
Watch BBC's interview with Captain Henrik Solmer about his experience on the biggest container ship.
Sister ships
Emma Mærsk is the first of eight PS-class container vessels. Though they all have the same design and, of course, dimensions, we usually tend to remember only the first as the largest.
| Name | IMO No. | Date Named | Maiden Voy. | Home port |
| --- | --- | --- | --- | --- |
| Emma Maersk | 9321483 | 12-Aug-06 | 8-Sep-06 | Taarbæk, DK |
| Estelle Maersk | 9321495 | 2-Oct-06 | 9-Nov-06 | Hellerup, DK |
| Eleonora Maersk | 9321500 | 25-Nov-06 | 21-Jan-07 | Svendborg, DK |
| Evelyn Maersk | 9321512 | 3-Mar-07 | 29-Mar-07 | Copenhagen, DK |
| Ebba Maersk | 9321524 | 21-May-07 | 6-Jun-07 | Copenhagen, DK |
| Elly Maersk | 9321536 | 25-Aug-07 | - | Svendborg, DK |
| Edith Maersk | 9321548 | 3-Nov-07 | - | Roskilde, DK |
| Eugen Maersk | 9321550 | 15-Dec-07 | - | Randers, DK |
Interesting Facts
On their website, Maersk Lines provides a very impressive and interesting illustration about a PS-class vessel like Emma Maersk:
A PS-class vessel can carry 11,000 full 20-foot containers. That equals a train of 71 kilometers long;
A single 20-foot container can hold about 48,000 bananas. So, in theory, a PS-vessel like the Emma Mærsk could transport approximately 528 million bananas in a single voyage - enough to give every person in Europe or North America a banana for breakfast;
The main engine of a PS-class vessel produces 109.000 horsepower, equal to that of 1,156 family cars;
The anchor of a PS-class vessel weighs 29 tons, equivalent to the weight of five adult African elephants;
The newly developed, more environmentally friendly silicone paint used below the waterline on a PS-class vessel creates a streamlining effect, saving an estimated 1,200 tons of bunker fuel per year;
A PS-class vessel is equipped with a waste heat recovery system, saving up to ten percent of main engine power. This equals the average annual electrical consumption of 5,000 European households.
Shipping world honors the Chairman and his wife
In the history of A.P. Maersk Group, before the giant container ship was built there had been up to 8 other vessels once having the name of Mr. Chairman's wife, Emma Mærsk (she must have been very happy about that!). Those have been renamed or scraped. Therefore, Emma Maersk now widely reminds us of a beautiful huge container ship.
IMO/ID
Year
Built
Type
DWT
Ex.Name
Disposal
Place/Year
5332252
1924
Cargo
ship

5,242

26 FORDEFJORD - 37 RENA -
56 SLOWACKI - 74 RODANTHI A.
Piraeus
Feb 79
5606819
1928
Tanker

8,278

41 SALVATOR - 46 EMMA MAERSK -
56 PICKANINNY
La Spezia
8 Oct 59
5406730
1957
Tanker

18,116

63 MAGALLANES
Pusan
16 Nov 76
6404844
1964
Tanker

63,675

-
Kaohsiung
8 Mar 78
7702035
1979
Cargo
ship

29,750

84 PFC JAMES ANDERSON JR.
in service
8321395
1985
Tanker

50,600

92 ODENSE MAERSK - 00 JAG PANKHI -
02 FAIR VOYAGER - 05 OCEAN GRACE
in service
9002611
1993
Tanker

299,700

97 BRITISH VIGILANCE –
02 EUGEN MAERSK 04 UNIVERSAL HOPE
in service
9002635
1995
Tanker

299,700

97 EMMA MAERSK –
04 UNIVERSAL PEACE
in service
Besides, on the occasion of the Danish vessel's inaugural call at Singapore, PSA also took the opportunity to honor well-respected industry pioneer and maritime luminary visionary Mærsk Mc-Kinney Møller, by naming a specially selected orchid – Dendrobium Emma Mc-Kinney Møller – in honor of his beloved late wife, Mrs. Emma Mc-Kinney Møller.
The Dendrobium Emma Mc-Kinney Møller, 
an orchid named after the late Mrs. Emma Mc-Kinney Møller.
(Source: www.singaporepsa.com)
Related links
---
What do you think about Emma Maersk?
Have you ever seen any container ship that's big and beautiful like Emma Maersk? Or you're so lucky to see the ship yourself? Share your thinking, feeling here...
What Other Visitors Have Said
Click below to see contributions from other visitors to this page...

---