What's the world largest ship?
Do you know what's the world largest ship of all kinds?
Well, that's not easy question because there are many ship types, and the record change over years as the ships get bigger and bigger. But if you're interested, you'll find out the answer in this article.
The sea giant is so large that four football (soccer) fields could be laid end to end on her deck. It takes 5.5 miles to stop with a turning circle of over 2 miles.
She is of 458.45 meters in length from tip to tip (LOA). That surpasses the height of Empire State Building in New York City (443 meters high), and Petronas Towers in Kuala Lumpur (424 meters high).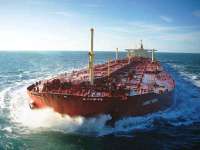 Knock Nevis is the world largest ship of all kinds ever built in history. The supertanker had many other names: Seawise Giant, Happy Giant, Jahre Viking, and Mont before she is scrapped in 2010.
The vessel has a beam of 68.8 meters, approximately the width of a football field.More details
Largest container ship
The title of the largest container ship in the world currently belongs to the Emma Maersk and her seven sister ships of A.P.Moller-Maersk Corporation.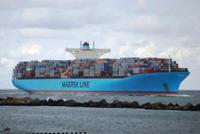 The giant box ship was built at Odense Steel Shipyard, Denmark, and set sail on her historic maiden voyage on 8 September 2006 under the command of Maersk Senior Master, Captain Henrik Solmer and Chief Engineer Michael Thomassen.
The Emma Maersk, an PS-type vessel and one of the largest container vessels in the world has an overall length of 397 metres and a width of 56 metres. 
Originally, Maersk Lines declared the vessel's nominal capacity of 11,000 TEUs, though shipping specialists deem the figure should be much more, even up to 15,212 TEUs (according to AXS Alphaliner).
Recently, Maersk Lines changed the nominal capacity of their PS-class vessels to 14,770 TEUs. Obviously, those are the largest container vessels up to 2010.
More details about Emma Maersk; Elly Maersk
Largest Cruise Ships: Oasis of the Seas
The Oasis class (formerly known as Project Genesis) is a class of Royal Caribbean International cruise ships that are the world's largest passenger ships.
Two ships were ordered in February 2006, named Oasis of the Seas and Allure of the Seas. Oasis of the Seas was completed and delivered on October 28, 2009, while Allure of the Seas is under construction and is expected to be completed by late 2010.
The Oasis class have surpassed the earlier Freedom class as the world's largest passenger ships. At 360 m (1,180 feet) in length Oasis is 21 meters (69 ft) longer than the prior largest passenger ship, the Independence of the Seas and classmates. Oasis also is 8.5 meters (28 ft) wider, and with a gross tonnage of 225,282, is almost 45% larger. Oasis class vessels carry over 5,400 passengers.
More details about Oasis of the Seas
---
Return from World largest ship to Container ships 
---