World's largest container ship
The world's largest container ship now is CMA CGM Marco Polo (16,000 TEU).
The title used to belong to Emma Maersk and her PS-class sisters. One giant ship was built and took the crown and then be taken over by a new star.
From history perspective, the question is what was the largest in the past, before Marco Polo and Emma Maersk had been built (1996).
Well, you'll find the answer in this article.
Since Ideal X, the first container ship set sail in 1956, the sizes and capacity of container vessel category has developed dramatically to take advantage of economy of scale.
Usually, people judge the scale of a container ship based on her capacity, which is the number of containers she can carry. In that way, the largest ships can carry the most containers, or to say it another way, have the largest capacity.
First generation
In 1956, Ideal-X as the pioneer in container carriage could only load 58 modified containers. She was definitely the largest container ship in the world at that time.
Converted cargo vessels and tankers like Ideal-X were typical for the first generation of containership. The largest ships in the first generation were 736 TEU Weser Express and her sister Elbe Express, built in 1968. The second generation began when cellular system was equipped to improve the productivity of cargo handling process.
Encounter Bay and her sisters Discovery Bay, Moreton Bay, Botany Bay were built in 1968/1969 took over the champion title by capacity of 1,530 TEUs.
In 1972, Hamburg Express broke the record and became the world's largest container ship at the time. She could carry 2,950 TEUs.
The third containership generation began from 1980. This stage saw the limit of Panama Canal to be reached. In 1981, Frankfurt Express was the first Panamax box ship with capacity of 3,050 TEUs.
It was only 3 years later, when larger container liner American New York was built. The vessel could carry up to 4.614 TEUs.
The fourth generation began in 1988, and President Truman gained the title of the biggest containership as she could load 4,500 TEUs.
The trend of size increase happened rapidly in this duration. In 1996, 6400 TEU Regina Maersk was built. In the following year, Susan Maersk with capacity of 8,890 TEUs took over the champion position.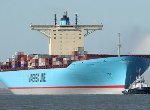 A few years later, Maersk Lines continually broke the world's record of largest containership as the company put mega ships into service: 8,890 TEU Challotte Maersk (2002), 9,130 TEU Anna Maersk, 10,500 TEU Gjertrud Maersk (2003).
The most recently, Emma Maersk with nominal capacity of 11,000 TEUs marked the beginning ofthe sixth generation of containership. Many shipping professionals suppose the real capacity of Emma Maersk should be much more, up to 15,000 TEUs. More information about Emma Maersk.
List of the world's largest containerships over years

| Year Built | Name | IMO No. | Class | Capacity |
| --- | --- | --- | --- | --- |
| 2012 | CMA CGM Marco Polo | 9454436 | Explorer class | 16,000 |
| 2006 | Emma Maersk | 9321483 | PS-class | 11,000 |
| 2005 | Gjertrud Maersk | 9320233 |   | 10,500 |
| 2003 | Anna Maersk | 9260421 |   | 9,310 |
| 2002 | Chalootte Maersk | 9245744 |   | 8,890 |
| 1997 | Susan Maersk | 9120853 |   | 8,680 |
| 1996 | Regina Maersk | 9085522 |   | 6,400 |
| 1988 | President Truman | 8616283 |   | 4,500 |
| 1984 | American New York | 8212611 |   | 4,614 |
| 1981 | Frankfurt Express | 7909592 |   | 3,050 |
| 1972 | Hamburg Express | - |   | 2,950 |
| 1968 | Encounter Bay | - |   | 1,530 |
| 1956 | Ideal-X | - |   | - |
---
Return from World's Largest Container Ship to Container Ships
Return from World's Largest Container Ship to Home Page 
---