Elly Maersk – the world's largest container ship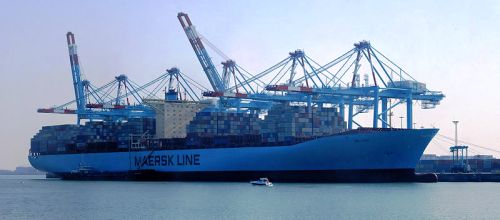 Source: Wikipedia
Elly Maersk is the sixth of eight PS-class container vessels, together with Emma Maersk; Estelle Maersk; Eleonora Maersk; Evelyn Maersk; Ebba Maersk; Edith Maersk; Eugen Maersk.
The vessel set sail on her maiden voyage at the end of 2007 under the command of Captain Poul Buchholz Hansen with Jan Niemann Kristensen as Chief Engineer.
| Name | IMO No. | Date Named | Maiden Voy. | Home port |
| --- | --- | --- | --- | --- |
| Emma Maersk | 9321483 | 12-Aug-06 | 8-Sep-06 | Taarbæk, DK |
| Estelle Maersk | 9321495 | 2-Oct-06 | 9-Nov-06 | Hellerup, DK |
| Eleonora Maersk | 9321500 | 25-Nov-06 | 21-Jan-07 | Svendborg, DK |
| Evelyn Maersk | 9321512 | 3-Mar-07 | 29-Mar-07 | Copenhagen, DK |
| Ebba Maersk | 9321524 | 21-May-07 | 6-Jun-07 | Copenhagen, DK |
| Elly Maersk | 9321536 | 25-Aug-07 | - | Svendborg, DK |
| Edith Maersk | 9321548 | 3-Nov-07 | - | Roskilde, DK |
| Eugen Maersk | 9321550 | 15-Dec-07 | - | Randers, DK |

Ship particulars
Like her five predecessors, Elly Maersk is part of the series of the world's largest container ships. She is 397m in length, almost four times that of a football (soccer) field. The vessel's beam (width) is 56m, and the depth is 30m with draft of 15.5m.
GENERAL
Name
Elly Maersk
Shipowner
A. P. Moller-Maersk Group
Ship operator
Maersk Lines
Nationality
Denmark
Shipyard
Odense Steel Shipyard Ltd, Denmark
Home port
Taarbæk, Denmark
Call size
OXHY2
IMO number
9321536

DIMENSIONS

Length of overall
397m
Beam
56m
Draft
15.5m

Depth
30m
GT
170,974
NT
55,396
DWT
156,907
Capacity (nominal)
14,770TEUs
Refer Plug
1,000

MAIN ENGINE

Maker
Wärtsilä
Type
Wärtsilä-Sulzer RTA96-C
Power
109,000 HP
Speed
25.5 knots
After demolition of the supertanker Knock Nevis (Mont) in 2010, the PS-class series are the longest vessels currently in service. To help those mega vessels sail at speed of 25.5 knots at sea, the largest engine in the world, 14-cylinder Wärtsilä RT-flex diesel engine is equipped to generate a power of 109,000 HP.
Interesting Facts
On their website, Maersk Lines provides a very impressive and interesting illustration about a PS-class vessel like Elly Mærsk:
A PS-class vessel can carry 11,000 full 20-foot containers. That equals a train of 71 kilometers long;
A single 20-foot container can hold about 48,000 bananas. So, in theory, a PS-vessel like the Elly Mærsk could transport approximately 528 million bananas in a single voyage - enough to give every person in Europe or North America a banana for breakfast;
The main engine of a PS-class vessel produces 109.000 horsepower, equal to that of 1,156 family cars;
The anchor of a PS-class vessel weighs 29 tons, equivalent to the weight of five adult African elephants;
The newly developed, more environmentally friendly silicone paint used below the waterline on a PS-class vessel creates a streamlining effect, saving an estimated 1,200 tons of bunker fuel per year;
A PS-class vessel is equipped with a waste heat recovery system, saving up to ten percent of main engine power. This equals the average annual electrical consumption of 5,000 European households.
Related links
---
Return from Elly Maersk to Container ships 
Back to Home page 
---
---
Nhận email chia sẻ kiến thức, kinh nghiệm về Logistics, Xuất nhập khẩu, và Thủ tục hải quan

và download tài liệu hữu ích: Danh sách Hãng tàu tại Hải Phòng, Tp. HCM, biểu thuế XNK mới nhất...
Vui lòng nhập địa chỉ email, và tick vào các ô xác nhận, sau đó nhấn nút Subscribe.
(Lưu ý: Bạn cần nhập chính xác và xác nhận qua email trước khi nhận file)
---