How long is the longest ship 
in the world?
The longest ship ever built in the world is the supertanker Knock Nevis. 
The vessel is also the the world's largest ship in history. She has several other names: Seawise Giant; Happy Giant; Jahre Viking, and Mont.
Can you believe that the giant ship is almost half a kilometer in length?
In fact, she is 458.45 meters in length of overall (from tip to tip), almost four times as long as the length of a football (soccer) field. That surpasses the height of Empire State Building in New York City (443 meters high), and Petronas Towers in Kuala Lumpur (424 meters high).
You can see the comparison between the ship's length and the height of some famous skyscrapers in below photo.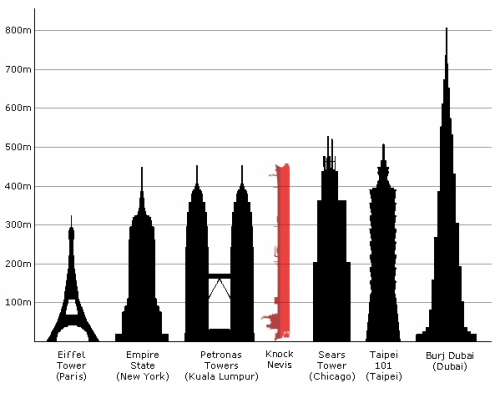 Regretfully, the Knock Nevis beached for scrapping. The job is in progress in March 2010 and will be completed within several months. Read more about Knock Nevis
Years ago, six other supertankers were also scrapped, they were Batillus class (4 sister ships of 414 meters in length), and Esso Atlantic class (2 sister ships with a length of 407 meters.
After demolition of Knock Nevis (or Mont) in 2010, the title of the longest vessel belongs to the PS-class containerships of A.P.Moller-Maersk. Those mega vessels have a length of 397 meter (61 meter shorter than that of Knock Nevis). They have eight sister ships and are the largest container ships in the world. Read more about Emma Maersk, Elly Maersk
Related articles
---
Return from Longest ship to Container ships 
---