Shanghai sails ahead 
but S'pore port still sanguine
The race for the title of the world's busiest container port is heating up, as Shanghai overtakes Singapore for the first time in year-to-date container throughput, setting the stage for a potential - and long anticipated - upset in global rankings.
According to data from the Maritime and Port Authority of Singapore (MPA), Singapore's container throughput for the January-August period comes in at about 19.01 million 20-foot equivalent units (TEUs), which is a standard sized container box.
Shanghai edged out Singapore with 19.06 million TEUs, suggesting that the Chinese port could emerge tops in the rankings this year.
For H1 2010, Singapore moved 1.5 per cent more container boxes at 14.06 million TEUs versus Shanghai's 13.85 million TEUs.
Though Singapore remained ahead of the Chinese port in the first quarter of this year, Shanghai has been powering ahead since April, propelled by a substantial recovery in global trade.
'It's a reflection of the strong recovery story in China this year,' said Selena Ling, head of treasury research for OCBC Bank, adding that fears of a hard landing in China may be unfounded.
A slide to second spot for Singapore, however, would not come as a major surprise since this was widely anticipated by analysts as far back as two years ago, until the global downturn made its presence felt. Last year, the Port of Singapore had a container throughput of about 25.9 million TEUs, ahead of Shanghai's 25 million TEUs by a nose.
But while Singapore could stand to lose top billing this year, what ultimately matters the most is that it continues to grow.
'We don't need to be the largest or the busiest. What is important is that we are managing our port resources effectively - providing maximum connectivity at lowest cost,' said Barclays Capital economist Leong Wai Ho. 'It is more important that we remain a vital global node for manufacturing and logistics and get these policies correct. Once that is done, shipment volumes and economic activity will follow.'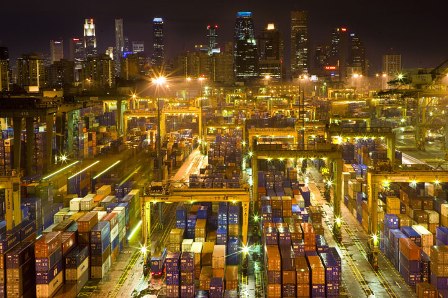 Singapore terminal at night
Jason Chiang, a consultant with Drewry Maritime Services (Asia), shares the same view. 'China's growth is driven by demand for exports while Singapore is a transhipment hub. Less than 20 per cent (of container throughput) handled in Singapore enters or leaves the port inland. We're battling for a different piece of the pie,' he explained.
Mr Chiang also highlighted that any gains that Shanghai sees could also trickle down to Singapore. 'In the long run, it's not necessarily a bad thing for Singapore. Some of our transhipment depends on China. If they grow, we will likely grow as well.'
For the period January-August this year, Singapore's container throughput was up 13 per cent from the same period last year while bunker sales rose 12 per cent year on year and vessel arrivals tonnage increased 8 per cent.
Lam Yi Young, MPA's chief executive said: 'Our key concern is whether the Port of Singapore continues to grow and continues to offer a competitive and compelling proposition to its users. We are thus encouraged by the strong growth seen by the Port of Singapore this year.'
In 2009, the top 10 list of busiest ports worldwide was largely dominated by Asia, with Dubai and Rotterdam being the only two outside the region to make the cut. Rotterdam, which once upon a time was ahead of the pack, just made it into the top 10 list last year at No 10.
Hong Kong, which is currently third in the rankings, used to be in first place until Singapore leapfrogged ahead in recent years.
Meanwhile, six of the top 10 busiest ports are in China alone, which means that Shanghai faces some competition of its own, stemming - ironically enough - from ports such as Hong Kong, Shenzhen, Guangzhou and Ningbo.
Source: Asiaone online
---
---
Nhận email chia sẻ kiến thức, kinh nghiệm về Logistics, Xuất nhập khẩu, và Thủ tục hải quan

và download tài liệu hữu ích: Danh sách Hãng tàu tại Hải Phòng, Tp. HCM, biểu thuế XNK mới nhất...
Vui lòng nhập địa chỉ email, và tick vào các ô xác nhận, sau đó nhấn nút Subscribe.
(Lưu ý: Bạn cần nhập chính xác và xác nhận qua email trước khi nhận file)
---