Port of Shanghai
Do you know Port of Shanghai is the busiest container port in the world?

With annual throughput of over 29 million TEU in 2010, Shanghai surpassed its rival - Singapore to become the world's most active hub port.
Port location
Shanghai port located at vicinity of Shanghai, the largest city in China. The mega port occupies a desirable geographic location, enjoys near-ideal natural conditions, and serves a vast economically-developed area connected by the Yangtze River.
The port rests next to the East China Sea, just north of Hagzhou Bay, where the Yangtze River converges with the Qiantang River.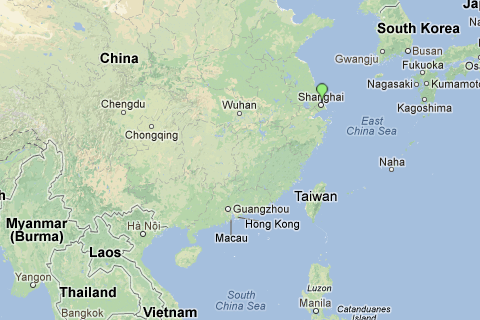 Background
From the 5th to 7th Centuries AD, the area of today's Shanghai port was known as Shen or Hudu. Under the Yuan Dynasty, the port became an official city in 1297.
In 1842 the port opened for international trade and became a treaty port under the Treaty of Nanjing. It became more approachable when foreign countries were relieved of local rules and regulations after the Treaty of the Bogue in 1843 and the Sino-American Treaty of Wangsai in 1844.
After the Second Sino-Japanese War, the Japanese became an important community and established the port's first factory.
The port came under the control of China in 1949, a development that dramatically slowed down the foreign trade at the port. The port enjoyed economic and building booms when it was permitted to implement economic reforms in 1991 by the Chinese central government.
Now, the Shanghai International Port Group (SIPG), a public listed company, is the sole port operator who manages all the public terminals in the port.
Port Facilities
125 berths in the port with a total quay length of about 20 kilometers
293 thousand square meters of warehouses
over 4.7 million square meters of storage yards
5,143 units of cargo-handling equipment
Annual throughput
Over 2,000 container ships depart from Shanghai port every month. Traffic of 2011 is 31.74 million TEU's and more than 500 million metric tons. See below table for annual container throughput in recent years. 
| Year | Thoughput (mil TEU) | World Ranking |
| --- | --- | --- |
| 2011 | 31.74 | 1 |
| 2010 | 29.07 | 1 |
| 2009 | 25.00 | 2 |
| 2008 | 27.98 | 2 |
---
Return from Port of Shanghai to Container Ports 
---