Corten steel
Corten steel or Cor-ten Steel is weather resisting alloyed steel (mixed with other metals and minerals) that reacts to oxygen corrosion (rust) in a manner similar to non ferrous metals.
When attacked by oxygen (air or water) it forms an oxidized barrier that resists further attack, if you visualize copper, brass, silver etc, when exposed to air they discolor and the surface turns green or grey, this discoloration is an oxide film that is tough and resilient to further oxidation.
This kind of steel was developed around 1972 in America, and is now used extensively in the Marine environment, ships and shipping containers (Corten 'A' ) and often in steel architecture and art, an example of which is the 'Angel of the North' statue.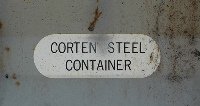 When used in art form it is often left unpainted, but where used in the Shipping environment it is painted adding further to the unit's weather resistance and of course its aesthetic appearance.
Should the painted surface become scratched so as to leave the parent metal bare the area exposed will initially turn a rusty colour, but further corrosion is prevented by an oxide film.
See below an example of alloys made with Corten
Chemical composition of Cor-ten Steel grades A & B

Grade

 %C

 %Si

 %Mn

 %P

 %S

 %Cr

 %Cu

 %V

 %Ni

Cor-ten A

0.12

0.25-0.75

0.20-0.50

0.07-0.15

0.030

0.50-1.25

0.25-0.55

 

0.65

Cor-ten B

0.16

0.30-0.50

0.80-1.25

0.030

0.030

0.40-0.65

0.25-0.40

0.02-0.10

0.40
---
Return from Corten Steel to Container Sizes 
Back to Home Page 
---