Shipping container sizes
Shipping container sizes as well as markings, specifications are to comply with international standards so that containers can be used as intermodal receptacles.
Of course, there are always special containers which have length and width dimensions similar to those of ISO ones but have different heights and weights. Such non-standard boxes may not be intermodal worldwide and, therefore, are not considered in this article. If you are concerned about approximate figures only, you can read container dimensions.
Among many sets of ISO container standards, ISO 668:1995 covers details about shipping container sizes and weights, which are summarized in the following table. It worth to noting that ISO 668:1995 also accepts in certain countries there are legal limitation to their overall height of vehicle and load (for example for rail/road service).
Dimensions

Container 20' (20'DC)

40' standard (40'DC)

40' high
(40'HC)

imperial

metric

imperial

metric

imperial

metric

External

Length

19' 10,5"

6,058 m

40'

12,192 m

40'

12,192m

Width

8'

2,438 m

8'

2,438 m

8'

2,438m

Height

8'6"

2,591 m

8'6"

2,591 m

9'6"

2,896m

Internal
(min)
Length

5,867 m

11,998 m

11,998 m

Width

2,330 m

2,330 m

2,330 m

Height

2,350 m

2,350 m

2,655 m

Gross mass

52900 lb

24000 kg

67200 lb

30480 kg

67200 lb

30480 kg
Container width
According to ISO 668:1995, all ISO containers have width of 2.438m (8'). When you hear someone mentions different types of containers, they all have the same width.
Container height
Currently, there're two main types of container height: standard and high. A standard container is 8'6" in height, while a high box is 9'6". The fact that a receptacle is called a standard or a high container is just a matter of habit. Years ago, 8' high containers were popular and considered standard. These are rarely in use today, and instead, a standard container now means a 8'6".
Container length
The length of a 40' (12.192 m) long container is considered a starting basis. Containers with shorter nominal sizes (e.g. 30', 20', 10') have lengths so as for when these combining together, with distance of 3" between two of them, the total length is equal to 40'.
Such 3" appears to be safety tolerance between two containers sitting next each other, so as to those vans in practice can be completely fit when stacking many tiers on top of one another (in container yards, depots, or on board of container ships).
Due to such a 3" distance, boxes other than 40' (e.g. 20') are shorter than what their nominal length suggests. For example, a 20' container is not exactly 20' long, in fact its real length is 19' 10,5" (20' minus half of 3").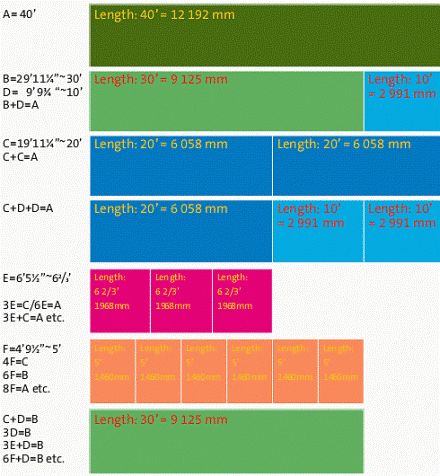 Example of module combination
(Source: Container Handbook)
---
Return from Shipping Container Sizes to Home Page 
---