Shipping process -
an illustration
You can see below simple but very easily understandable illustration of shipping process. The graphics are provided by Port of Tacoma.
Every day, thousands of containers arrive at seaports from countries all around the world. They are carried aboard liner ships, which offer regularly scheduled service on fixed routes – much like a bus or train service does. Each shipment represents a specific supply chain, whether it is patio furniture form Thailand bound for a Milan retailer or – as illustrated here – shoes shipped from China to an athletic supply store in Europe or North America.
Every supply chain is somewhat unique because it involves the timely and accurate transfer of goods between various modes of transport. Goods transported by ocean containers on liner ships can be places into the container at the factory origin.
The container is locked and sealed so the goods can remain safely secured inside the container until it arrives at the purchaser's warehouse, factory or store. For this reason, more than 50 percent of the value of goods moved internationally by sea is now moving in containers on liner ships.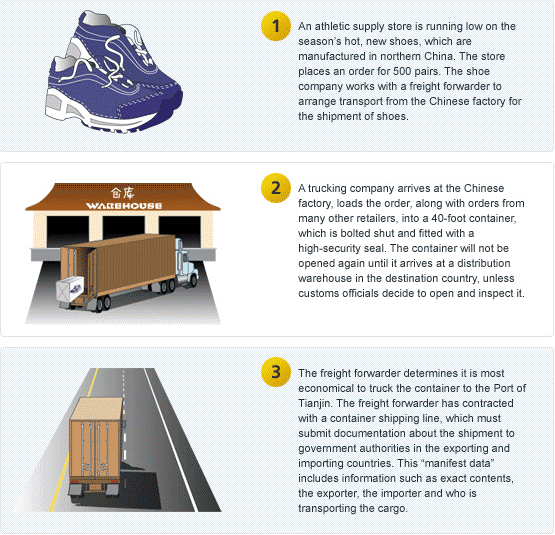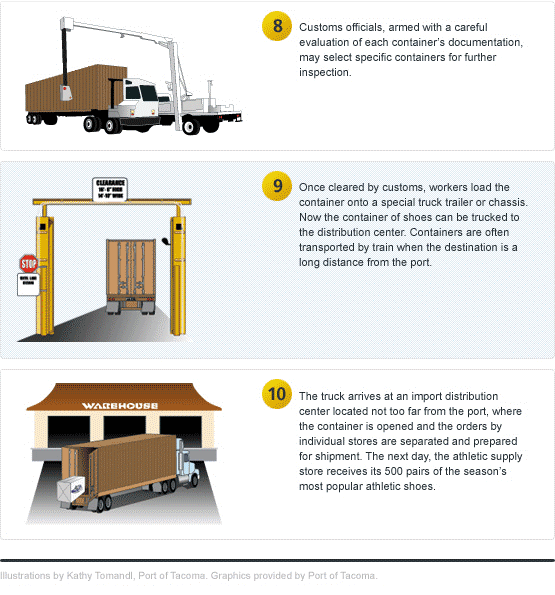 ---
Return to Home Page from Shipping Process 
---
Nhận email chia sẻ kiến thức, kinh nghiệm về Logistics, Xuất nhập khẩu, và Thủ tục hải quan

và download tài liệu hữu ích: Danh sách Hãng tàu tại Hải Phòng, Tp. HCM, biểu thuế XNK mới nhất...
Vui lòng nhập địa chỉ email, và tick vào các ô xác nhận, sau đó nhấn nút Subscribe.
(Lưu ý: Bạn cần nhập chính xác và xác nhận qua email trước khi nhận file)
---