Malcolm McLean -
the man changed the world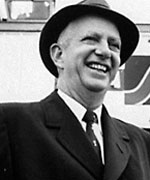 Malcolm McLean was born in a small town of Maxton, Robeson County, North Carolina, USA. 
Growing up in a farming family in Great Depression period, he only finished high school level. In 1931, pumping gas at a station near his hometown helped him save enough money to buy a secondhand pickup truck for $120. Understanding the value of work hard and determination, he soon developed his truck fleet to five trucks and more, and finally 1,776 trucks by the early 1950s.
In 1937, while waiting hours for his truck to be unloaded at Hoboken, New Jersey, McLean came across the idea that not only changed his destiny but also the entire shipping world: the notion of "containerization". He recalled, "I had to wait most of the day to deliver the bales, sitting there in my truck, watching stevedores load other cargo. It struck me that I was looking at a lot of wasted time and money. I watched them take each crate off the truck and slip it into a sling, which would then lift the crate into the hold of the ship."
---
Born in 1914
1931: Mc Lean completes high school
1934: McLean buys the first secondhand truck
1937: McLean conceives the idea about container, while waiting for his truck to be loaded in New Jersey
Early 1950s: McLean Trucking Company owns and operates 1,776 trucks
1955: McLean Industries acquired a small steam ship company, Pan Atlantic
1956: Ideal X, a converted old tanker carries 58 containers of 35 feet from Newark, New Jersey to Houston, Texas.
1957: McLean Industries converts some vessels to carry containers only. The first full-celled container ship Gateway City begins service.
1960: Pan Atlantic name changes to Sea-Land
1969: McLean sold controlling interest in Sea-Land to R.J.Reynolds
1986: CSX Corporation buys Sea-Land
1999: A.P.Moller Group buys Sea-Land Service, after a short period of ownership by CSX Corporation
2001: McLean dies at the age of 87
---
Return from Malcolm McLean to Home Page 
---
---